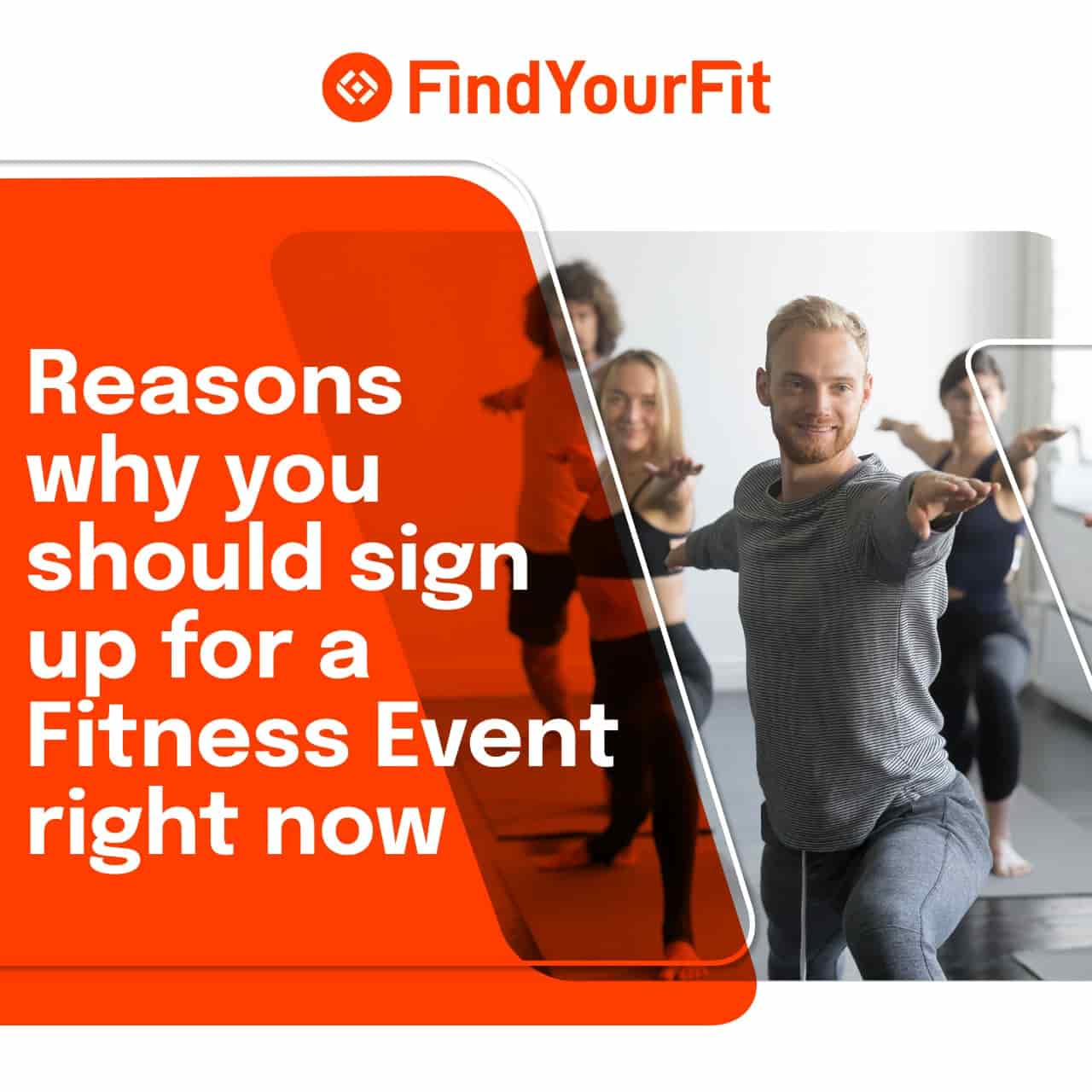 Fitness events have a wide range of advantages. This article will discuss some of the most significant advantages of health and fitness events. The first thing that comes to mind when thinking about health and fitness events is how amazing they are!
Events focused on fitness provide great opportunities for your clients to get to know one another and learn more about nutrition and fitness. You may also have the chance to meet people who have interests similar to your own through them.
Listed below are some of the few reasons why you should sign up for a fitness event right now:
If you are looking for a fitness buddy to join you then check out our FindYourFit Wellness Events, these are festivals where you can meet, train and have fun with fitness buddy in your area.
1. Peer support and motivation
The support system provided by training groups will keep you motivated to achieve your goals. If you are interested in joining an existing fitness group, you can do so, or you can create your own. You will improve your fitness level if you prepare for a running event or bike with the group at least once a week so you can complete the planned distance.
According to an article published in Heart Matters Magazine, cycling with like minded ladies inspired a psychotherapist of age 56 to cycle regularly and improve her health.
2. There is a purpose to exercising
If your goal is to get fit or lose weight, going to the gym every day can quickly become boring. Exercise becomes more interesting when you choose an event that has a timeline and follows a training plan. For every workout you do during your training program, you will have a set goal to work toward.
3. Challenge yourself
Despite the challenges, you'll be able to achieve a level of fitness that you may have once thought was unattainable. As you follow a training plan, you will find that your strength and endurance will improve quickly, which will make you more motivated to keep going.
4. Improved self-esteem
A competition can help you realize you are the only one who can achieve this goal. You will be surprised by your toughness as you draw on inner strength to get through. When you cross the finish line, there is nothing better than that feeling of accomplishment. You get a feeling of perseverance and success that you can apply to all aspects of your life.
According to a study published in The Journal of the American Osteopathic Association, participating in a group activity like fitness events reduces stress levels by  26%.
5. Your become a step closer towards your long-term goal
It is possible to use fitness events as stepping stones to reach more challenging long-term goals. A half marathon might interest you someday, for instance. When you cross the finish line, there is nothing better than that feeling of accomplishment to become familiar with how you handle a race environment.
Read Also – 10 Wellness and Fitness Event Ideas For Your Gym
6. You can support a cause!
You can raise money through your training and completion of fitness events by donating your registration fees to charities. You are motivated to achieve your goal even more when you know that your efforts will benefit someone in need.
7. You will make new friends
During a race, you can witness surprising things while waiting at the start line. Having friendly conversations with others who are interested in fitness can lead to making new friends. Whether you're looking for the perfect workout partner or a training group, you might find it on our next FindYourFit Wellness Events.
8. Get motivated and motivate others as well
You have an impact on the people around you by making healthy choices. When you commit to your plan and cross the finish line, you never know how your actions may affect someone else. You have the chance to inspire others to adopt healthier routines.
The Bottom Line
In conclusion, if you want to keep your fitness on track, you should register for an event. Fitness events, such as races, triathlons, and swam-a-thons, are a great way to build your fitness, meet like-minded people, and have fun. These events take place all around the world, so you can find one near you. Getting into shape isn't about competition with others, it's about your own personal journey. So sign up for a fitness event today!
However, you should register only for an event that you truly want to attend, otherwise, you may miss important deadlines, miss classes, and waste money on registration.